I think one of the best things to hit the blogosphere is "the swap."
It's like a panty exchange minus the chain letter - and way cooler! :)
Recently I signed up to participate in the Third Annual Scarf Swap
The rules were that you purchased and sent each other scarves by September 23. So fun!
As a new mom, I don't exactly have hours between naptimes to scour my favorite stores for the perfect accessory to send my new friend. But I knew just the place to find what I was looking for, where I picked up this bright beauty to send Jennifer's way: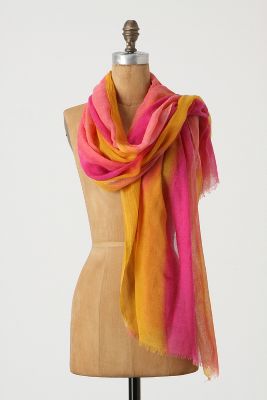 Thank you,
Anthro
! I love that its lightweight - especially since Texas
doesn't really get cold until after Thanksgiving - and the beautiful colors.
Jennifer, I hope you like it too!
I was so very excited when I heard a little knock at the door yesterday afternoon,
only to open it and discover this little beauty waiting for me:
Thanks, Jennifer! Can't wait till next year's swap. ;)